Here are some tips about cluster tomatoes
They are a great source of vitamins C and A.
Select fragrant, blemish-free tomatoes.
Select tomatoes that are heavy for their size.
The tomatoes should have a bright, even color.
Ripe tomatoes will yield slightly to pressure.
Pays to Stay Local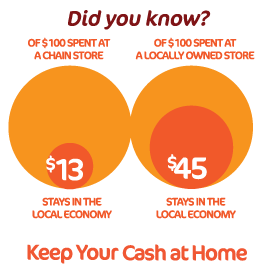 Think about it: would you want $13 or $45? For most people, that is a "no-brainer." Still, we have people shopping at the big box stores taking no thought for how it affects the community feel of our neighborhood.