What you need:
1 1/2 c. fresh pineapple, chopped
1 mango, chopped
1/4 c. red onion, chopped
2 tbsp. granulated sugar
1 tsp. fresh lemon juice
1/2 to 1 tsp. (or to taste) jalapeno pepper, finely chopped
1 tsp. fresh ginger, finely minced
1 tbsp. fresh mint, chopped
What you do:
Mix all ingredients well in a glass bowl. Adjust seasonings to taste. Refrigerate at least 4 hours before serving.
We hope you enjoy this recipe!
Pays to Stay Local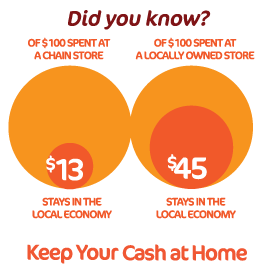 Think about it: would you want $13 or $45? For most people, that is a "no-brainer." Still, we have people shopping at the big box stores taking no thought for how it affects the community feel of our neighborhood.