What you need:
2 cup black beans, drained
1/2 cup sliced green onions
1 cup chopped tomatoes
1 can corn, drained
1/2-1 tsp. ground cumin
1/2 teaspoon chopped jalapeno peppers
Salt to taste
What you do:
Combine ingredients in a small bowl. Serve with corn chips.
We hope you enjoy this recipe!
Pays to Stay Local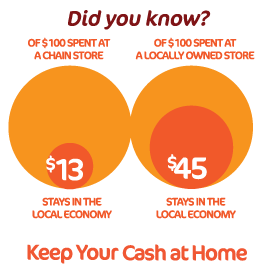 Think about it: would you want $13 or $45? For most people, that is a "no-brainer." Still, we have people shopping at the big box stores taking no thought for how it affects the community feel of our neighborhood.