Here are some tips about romaine hearts:
Vidalia onions are great raw, on sandwiches, burgers and salads.
They also make delicious onion rings.
Roast and grilled sweet onions lose none of their sweet juiciness.
Buy onions that are dry and shiny-smooth.
Vidalia onions are best used as soon as possible.
Keep in a cool, dry area.
Pays to Stay Local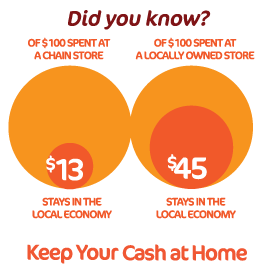 Think about it: would you want $13 or $45? For most people, that is a "no-brainer." Still, we have people shopping at the big box stores taking no thought for how it affects the community feel of our neighborhood.