What you need:
1 lbs. Ground beef
1 cup Onion, chopped
1/2 cup Green bell pepper, chopped
2 teaspoons Garlic powder
2 cups Hot water
1/2 cup milk
1 pkg. Beefy Pasta Entree
1/4 cup BBQ Sauce
2 Tablespoons Ketchup
1-1/2 cups All Purpose Baking Mix
1 cups Milk
2 Eggs
What you do:
Preheat oven to 375&degF.
In a large skillet combine beef, onion and bell pepper. Saute until beef is browned. Drain.
Add garlic powder, water, milk, bbq sauce, ketchup and sauce mix packet. Stir, bring to a boil. Add pasta.
Pour pasta mixture into a 9 x 13Ó baking pan.
In a separate bowl combine baking mix, milk and eggs. Pour mixture over the pasta mixture.
Bake for 25 Ð 30 minutes or until golden brown.
We hope you enjoy this recipe!
Pays to Stay Local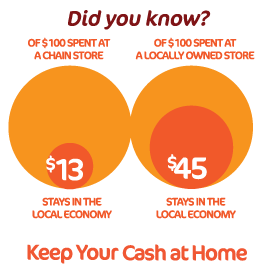 Think about it: would you want $13 or $45? For most people, that is a "no-brainer." Still, we have people shopping at the big box stores taking no thought for how it affects the community feel of our neighborhood.